2010 Capital City Regatta Day 2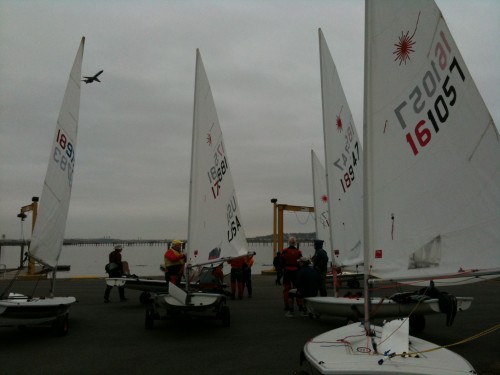 Day 2 at the Capital City Regatta did not start out looking very promising. Upon arriving to rig the boats there wasn't a breath of wind. The RC smartly postponed for an hour and we all stood around in full gear shooting the breeze. The minute someone opened a beer and another began to de-rig the wind started coming in so the postponement was lifted and we headed out.
Georgetown was also running a regatta and we swapped sailing areas today putting us in the cove. The flotsam in the cove was to be avoided, but it was not nearly as bad as it was yesterday . The winds were light and shifty, and began to build as the front got closer.
Racing today went well. I did fine moving the boat whenever I wasn't guessing which way the wind was coming from. Today was a much better day boat-handling-wise and I think I've gotten back into the groove and gotten the cob webs out.
We ended up getting in 4 more races before the time limit. Aside from one race where I took out a mark to avoid fouling someone I sailed fairly consistently in the upper half of the fleet. That put me into 6th overall which was a good result for my first time out this year. Scott and everyone as PRSA did a great job running the regatta and the BBQ each day was great. I also want to thank Len and Barb for the place to stay Saturday night.