2013 Laser Atlantic Coast Championship: Saturday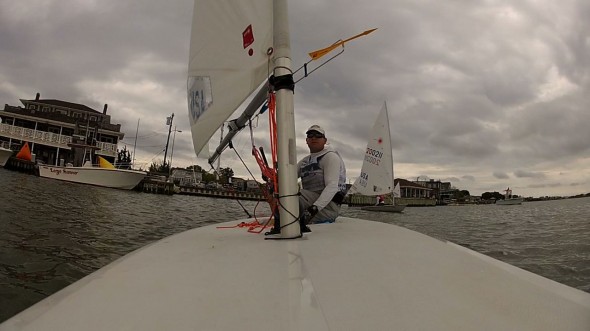 Quite a day for the first day of the 2013 Laser Atlantic Coast Championship at Little Egg Harbor Yacht Club on Long Beach Island NJ.  Looking at the scores – everyone was up and down  and very inconsistent.  We had 4 races with 4 very different conditions for each.
In the first race I had a poor start, but picked my way into mid fleet.  Right at the end I tapped someone at a mark rounding and had to do turns.  Finished 41.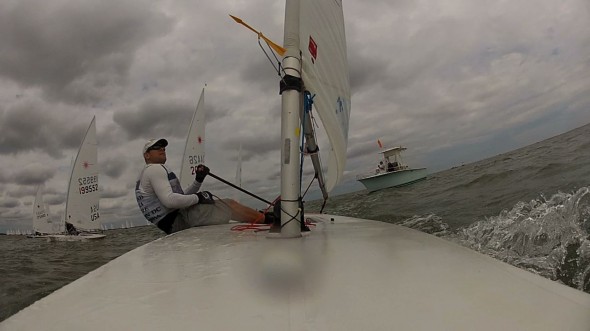 By the second race we had 6-8 knots of breeze.  I picked out the pin end to start and nobody was down there.  I won the pin and just punched out and kept going out to the left and stayed out front.  By the top mark only Eric Reitinger was just ahead of me.  On the downwind a couple boats caught me and on the 2nd upwind I found a hole and lost 10 boats.  I held there and finished 15.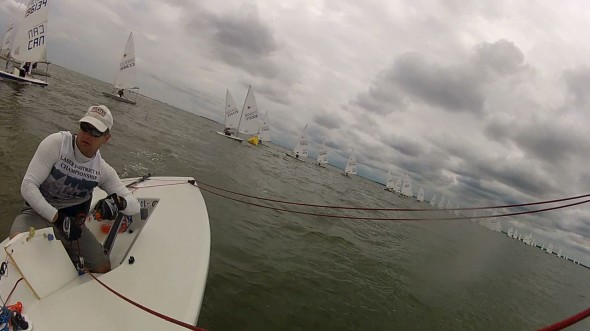 In the 3rd race we started under black flag and had what I thought was a great spot, but suddenly I found myself bow out, chickened out and backwinded so I didn't get black flagged.  As we went upwind the wind continued to die and it started to rain.  That continued throughout the race and by the last leg we were barely going along and I finished deep.
In the last race the wind came up to 9-11 with clear skies and I had another terrible start.  I immediately tacked out and got bounced further to the right and found myself on the layline at the mark about 25th.  Both downwinds I went way right mostly just to stay away from the other sailors and picked up a spot or two on each.  On the 2nd upwind we had a course change with the wind shifting.  I picked the phase perfectly and picked up at least 10 spots upwind.  Finished 13th.
All in all it was a tough day but still a lot of fun and I'm looking forward to day 2 tomorrow.  Keep an eye on Twitter on @LaserACC for my updates.