We started with a windy day along with some apprehension at the skippers meeting about what kind of conditions we might see out on the course. We were seeing gusts to 26 on the weather buoy at Stingray Point as we were leaving the dock. Out on the race course we had some shelter behind Stingray Point and saw at most 22 in the sailing area as we started. Onboard for the day were Todd, Jon, Joe, Reed, Ron and Len.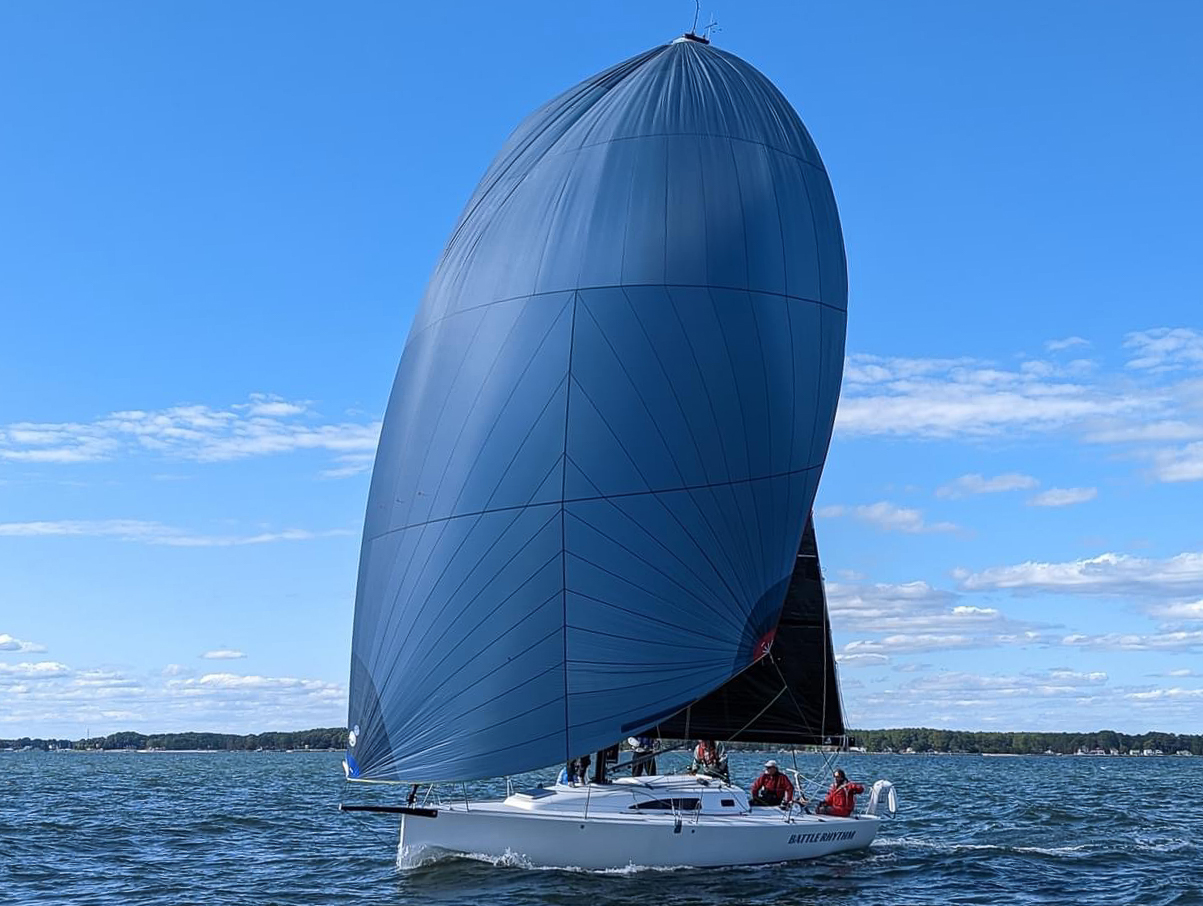 First race was 1.2nm, we had a reef in and were doing a lot of figuring out on how to make the boat go. We didn't get the reef set as well as we wanted and definitely didn't tighten down the rig for the conditions. As expected the left was best and boats that went more left came back across with more pressure, less current and a better shift from around Stingray Point. We had started near the boat and had a good lane and eventually went up the middle left. There was a small issue with our first spinnaker set so we held off setting for a minute while we cleared something. Once the chute was up we were off and running. We did a little better on the second upwind and had a good downwind. Weren't able to catch the fleet and ended up almost 2 minutes behind the next boat settling for 6th.
In the second race we had a terrific start at the boat and held our lane up the left side. We had the boat going and had good sets and douses and passed some boats on the first downwind. By the end only Nanuq was ahead and we corrected to 3rd overall.
For the 3rd race we didn't have a good start and got stuck behind Corryvreckan near the boat-end of the line. We had to do a tack and went a little too far to the right. Boats on the left made out, but we did find some pressure to catch up. On the downwind we held our own. At the bottom mark the wind shut off and we were trying to go upwind in the same sloppy waves and just a couple knots of wind and against the current. We parked up there for about 8-10 minutes before it finally filled again and we were able to get the boat moving. We managed to put enough space between Corryvreckan and Excitation (who both went more right than us) to finish 3rd on the shortened upwind finish.