I've got a Netgear (JGS516) gigabit switch in a closet just off my kitchen near the family room.  Even with the door closed the fan noise it audible even above the refrigerator that is just a few feet away.  Quite distracting when trying to watch a movie or have a quiet meal in the kitchen.  So I did a little project to reduce the noise.
The switch uses a 5v 40mm x 40mm  x 20mm fan.  Unfortunately, it doesn't seem as if quiet 5v fans are made this size, so I ended up getting a 12v fan of this size (Scythe Mini Kaze Ultra 40mm x 20mm Silent Mini Fan (SY124020L)).  To get a 12v power source I pulled apart a cell phone charger, fed the wire through the vent opening and spliced it together.
With the fan running full speed, it still wasn't quiet enough, so I got a variable speed controller so I could turn it down.  With the fan on the lowest setting the sound is barely audible in the closet let alone with the door closed and there's just enough air flow to be sure the barely loaded 16 port switch doesn't get too hot.  And finally, I can very easily pull the mod out and return it to it's original configuration.
Before: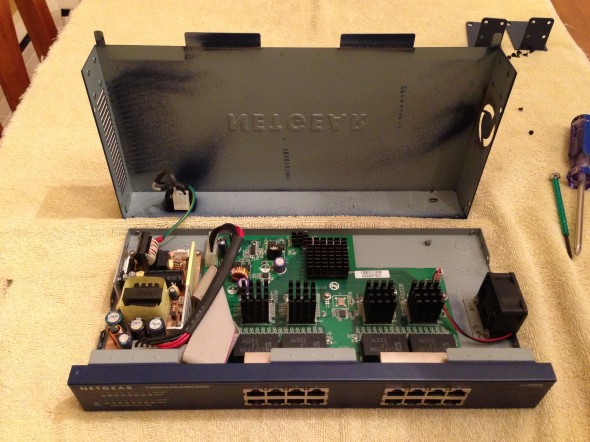 After with the speed controller in the back right corner: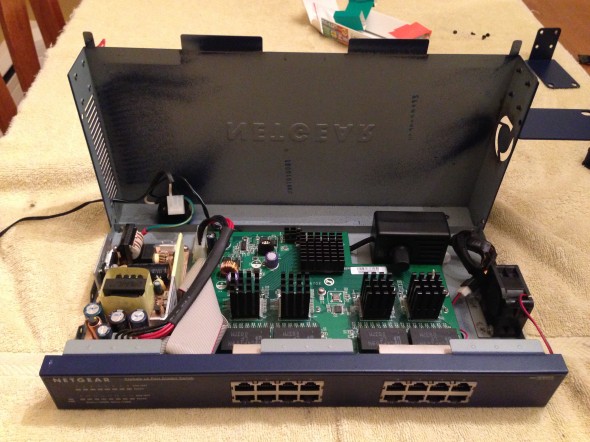 | | |
| --- | --- |
| Speed Controller | Vent Wiring |