This was the 2nd day of the Spring Series at Fishing Bay Yacht Club and I got to helm the J109 Double Eagle to two 2nd place finishes in the 6-boat fleet.  With winds in the low 20's the fleet was racing a 1.04 mile leg in the Piankatank up into Fishing Bay. Anytime the wind is out of the North in there it's very shifty which made driving challenging.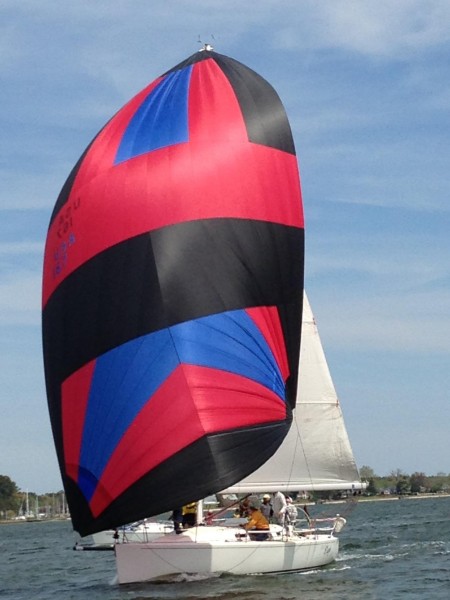 In the first race we trailed Afterthought all the way around the course.  They were shorthanded and sailed downwind without a shoot, but made good enough VMG that we had to stay in good pressure with a kite up to make up on them.  On the 2nd downwind we picked it right and were able to nip them at the line.  Unfortunately Nanuq was too close behind and was able to correct over us.
In the 2nd race we were a bit late at the start and were just never able to really make up the deficit to challenge Afterthought and wound up with another 2nd.
I just want to thank Sam Mitchener for the opportunity to drive Double Eagle and wish his family the best and am sorry he wasn't able to sail with us today.
Photo courtesy of Carrie Russell.