2013 Smith Point Race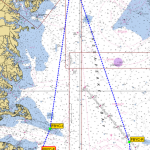 This year for the Smith Point Race at Fishing Bay Yacht Club I sailed on an Olson 911S called Mad Hatter owned by Bob and Lisa Fleck.  We sailed in the PHRF-B fleet with close competition form a Tarten 40 and a Tarten 10.  The Smith Point Race is a 57nm race starting in the mouth of the Piankatank River heading east across the Chesapeake Bay then North to the the Smith Point Light house at the entrance of the Potomac River and then back to the Piankatank leaving Stingray Point to starboard.
We started out at 2pm with the race expected to take about 10-12 hours.  The forecast was for an east wind 12-18 all afternoon/evening with an outgoing tide starting shortly after the start.
On the leg across the bay we were close reaching and we stayed above everyone else in the fleet.  When the wind went a little south, this helped give us leverage to round in second – behind only Chilcoot from the A-fleet.  On the reach up the bay we were quickly run down by the J-105 Corryvreckan.  The short choppy and confused waves made the going a little tough. Towards the end of the leg to Smith point we had the chute up reaching and all of the bouncing around kept collapsing the chute.  We arrived at Smith Point just at sun down.
The way back in the dark was almost upwind and the wind slowly eased from 16 to about 12.  Halfway back I helmed and we did a sail change up to the No 1.  When we got to the Piankatank we turned west, put the chute up and finished the race as the 3rd boat over the line and 1st overall on corrected time by 10 minutes.  Results.