2022 FBYC 83rd Annual One Design Regatta
We managed to have a five boat ILCA fleet that came together at the last minute. We sailed in Godfrey Bay along with ten Melges 15, three Windmills, 7 Hampton One Designs and a few San Juan 21 and a international Canoe. 29 Flying Scots sailed their Atlantic Coast Championship on another course.
Out on the race course we waited while 3 fleets started ahead of us and had wind in the low teens out of the North. It was pretty shifty and at the time of our start there was an almost 10 degree favor at the pin and Craig took advantage of that port tacking our fleet at the pin. Craig played the shifts well and stayed well enough ahead at the pin with me behind and Trip just behind me. On the 2nd upwind to the finish I was able to pick some shifts and catch up to Craig, but once we got out to the lay line there weren't any passing lanes and I had to settle for finishing just behind him.
For the second race, since there were 5 of us and 3 Windmills we were all started together. By now the wind had dropped a bit and was very shifty with some big holes. We watched the Melges 15s start ahead of us and some boats caught puffs and took off while others missed it entirely and bobbed around near the start. Some of the boats were quickly 1/3 of the leg ahead before even covering 1/2 of the leg. I watched where the wind was and where it was coming from at our start and i was able to string together some puffs to get launched. The Windmills all went way left while the ILCA fleet was all over. By the top mark I was 1/3 of a leg ahead and I just sailed conservatively – covering the fleet and giving up some ground, but also keeping myself between everyone else and the finish the rest of the way around. Trip finished behind me with Craig behind him.
The 3rd race still had some pretty big shifts, but without the massive holes of the prior race. Craig and I split a bit and he caught some better shifts and led by 10 boat lengths or so at the weather mark. I also had some Windmill rounding traffic to contend with. Downwind we got a 70 degree shift from the right turning it into a reach for just a couple of minutes. It got to me first and by the time Craig got it I was well ahead and then just played a loose cover on the upwind to finish 1st. Craig was second with Bill 3rd.
At the start of the 4th race Craig and I both went for the boat and Craig got between me and the boat and ended up fouling me and having to do turns. The wind had picked back up to where were comfortably hiking with some de-powering at times. I focused on picking shifts and was able to extend my lead and then did another loose cover on the fleet to hold my position. Craig finished 2nd followed by Trip. This race was also fun to see with the Windmills. They seemed to generally point higher and sail faster upwind. In the prior two races in lighter air they started with us and finished well ahead of us. In this race they started with us and I finished just a boat length behind their leader.
In the evening after racing Jess and I came to the part by boat and got to have dinner and see friends and hang out.
Sunday's forecast was for light air and it delivered. We ghosted out to the course on time hoping for it to fill and floated around for an hour and a half. By around 11 nothing had filled and the clouds burned off and it started to get hot. The fleet started making their way to shore and a short time later the RC agreed and abandoned for the day. Sad we didn't get another day of racing and the wind eventually did fill, but by then we were on to awards.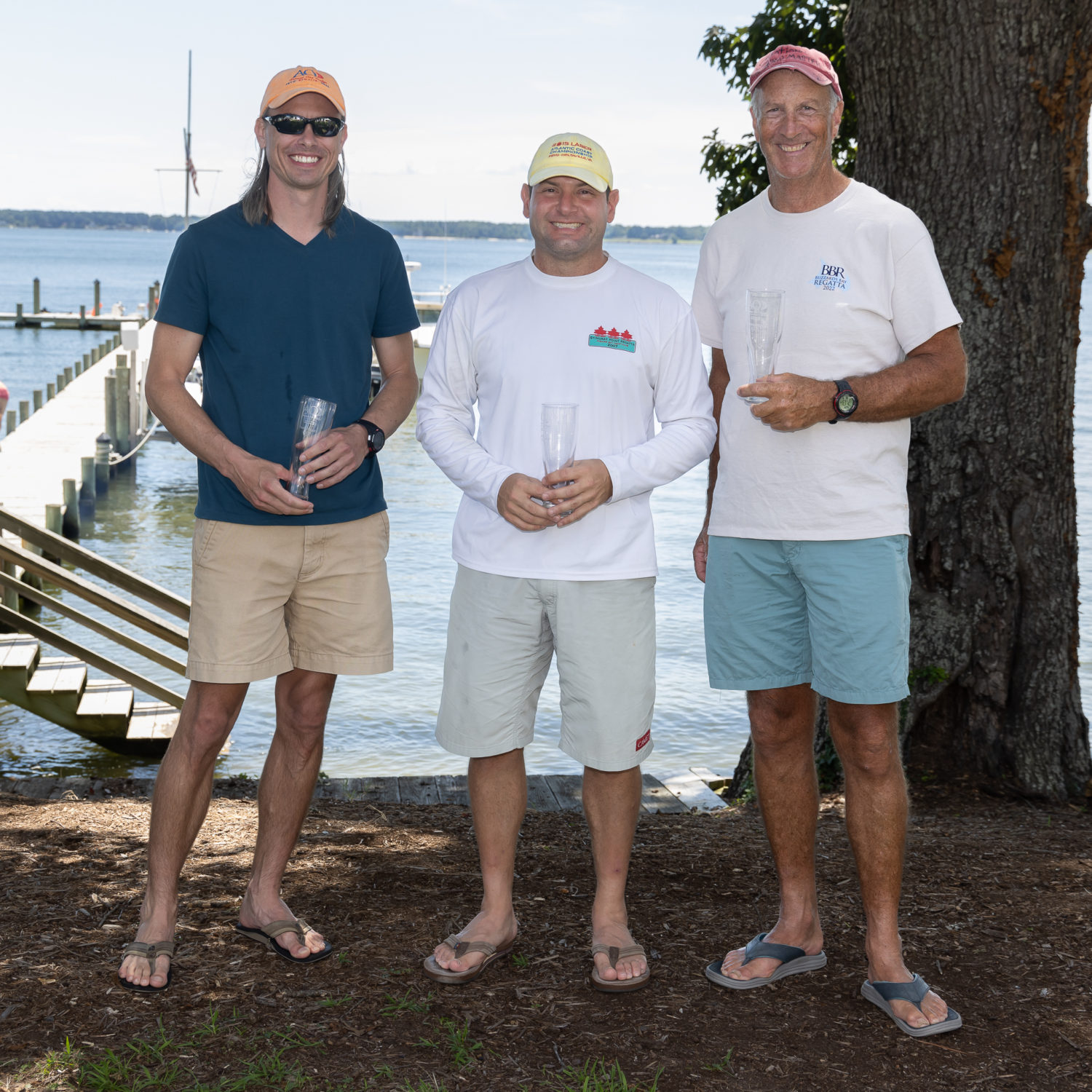 Thanks to Mark and team running the event and Jim R and his team for running races on our course.