2022 Chesapeake Bay ILCA Masters Championship: Saturday
We had hoped to sail the Chesapeake Bay ILCA Masters Championship in early October, but Hurricane Ian was a little too close for comfort and we ended up postponing the entire event mid-week when it was clear the remnants of the hurricane were going to make it a questionable race weekend. So we rescheduled for early November and 27 boats were able to sail the makeup.
Day 1 started light on the race course and we ended up waiting around about 45 minutes before wind we could race in finally settled. First race was sailed in a very light 6 knot breeze and built as the race went on. I went left on the first beat and that was not the place to be. I managed to pick up a few spots on the way back upwind for an 11.
A second race start was tried and the wind wasn't steady so we postponed again while it built. Eventually it did and we sailed another race. I played a little more left than I should have and stuck around the middle of the lead pack for an 8th place finish.
By the 3rd race the wind built a little more and we were comfortably hiking. I had a fantastic start and was able to tack to the right almost immediately after the start and protected that side. Unfortunately, I didn't pick the shifts very well and the folks picking shifts on the left did it better. Ended up 8th again.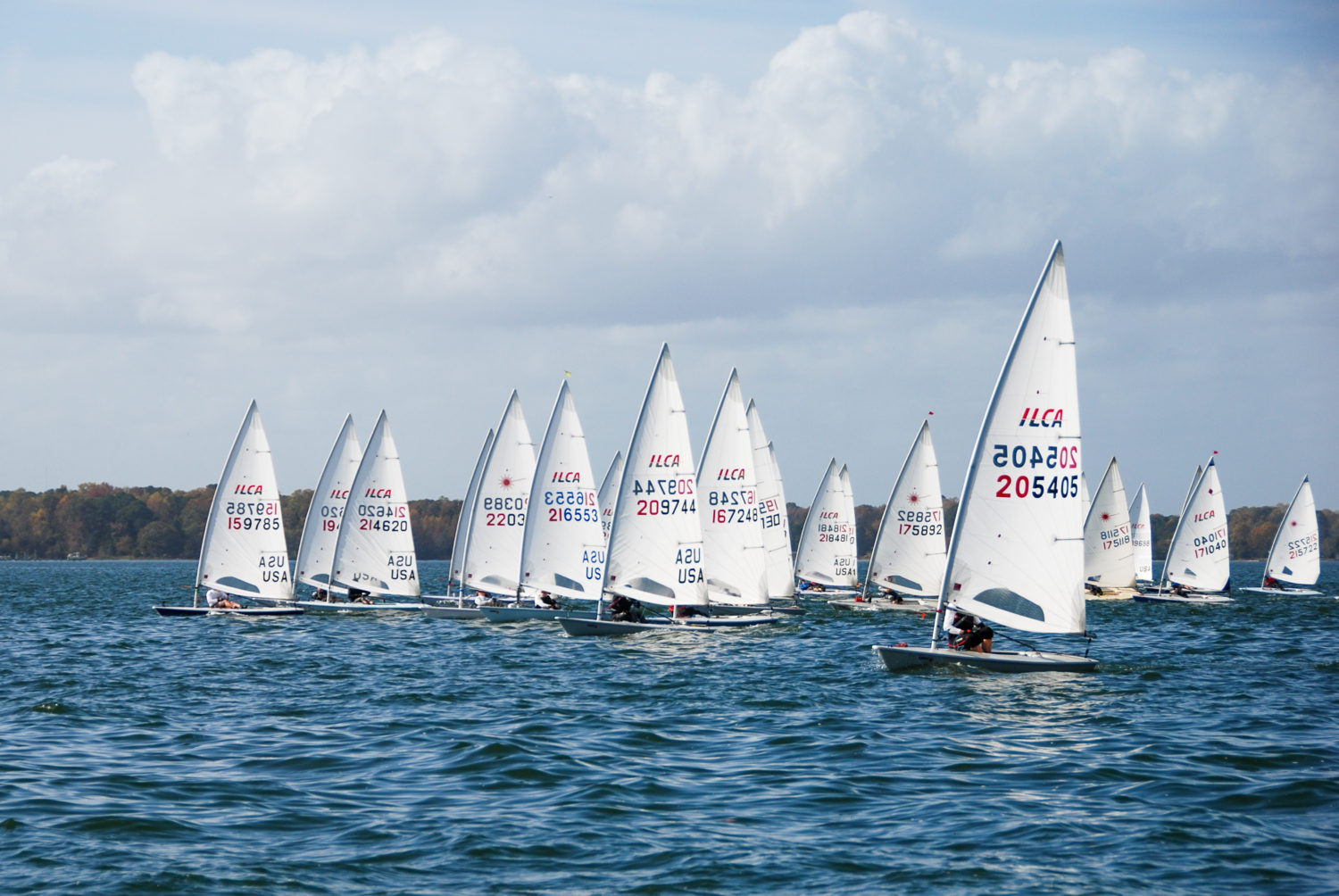 We rolled right into a 4th race of the day and I started relatively close to the boat end and mostly by myself. I tacked to the right and took it all the way to the lay line – even over standing a bit and rounding in the top 5. I lost a few spots downwind and played the middle left picking puffs on the 2nd beat to pick up some spots to round the top mark in 2nd and held that to the finish.
For the final race of the day the wind eased off a bit while staying in the double digits. We still had the waves that were a little harder to work through. I went more to the left this time and stuck around the top 5 most of the race.
There was definitely some current going across the course. David, James, Peter, Scott A, all had good races consistently at the lead. First two races were in 6-8 and by the 3rd race the wind had started to build and even had a shot of high teens for a few minutes as some clouds passed.
We wrapped up the evening with pizza from a local gourmet pizza place and a cake as the reschedule didn't work with Alain's schedule.