For the 3rd and final day of the Severn Sailing Association Soling Frostbite we had another day of light thermals and mostly overcast skies.  I was once again the middle guy flying the chute and calling tactics on Mike Waters boat along with bowman Al Tierney.
In the first race we were a little late to the start and wound up behind the other 4 boats.  We worked the left while the rest of the fleet went right and wound up rounding the first mark in last.  While the rest of the fleet took the rhumb line to the mark in wind that had shifted to the right looking upwind.  We instead went downwind for a bit, straight out into the bay to meet the new breeze coming in and then gybed  downwind in pressure and carried that to the downwind mark.  That new wind took a while to reach the rest of the fleet and we found ourselves in 2nd at the leeward mark.
Going upwind we picked the shifts and pressure well and passed a boat to round in first.  Again we headed out into the bay while the boat just behind us did a tight rounding and headed down the rhumb line to the finish.  We were out of the wind barely making headway to the left of the course while our competition was nearly halfway to the finish.  Other boats were rounding and following the other boat and making better distance on the finish than we were.  And just like clockwork, the breeze came in from the left and carried us right by everyone and we won the race.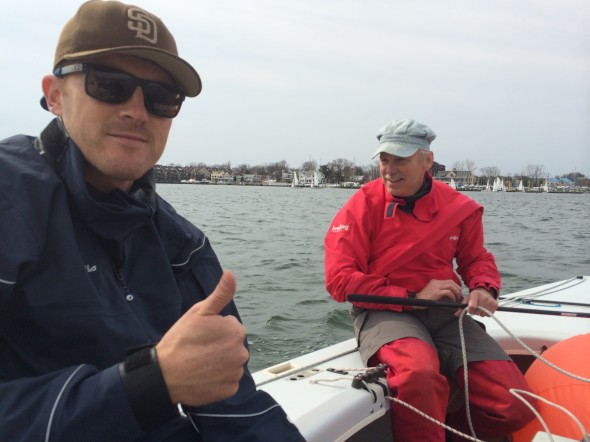 In the second race we got a good start and just played the shifts and pressure upwind and kept ourselves between the other boats and the next mark and were able to win that race as well.
In the 3rd race we had a pretty solid lead using the same strategy as the 2nd race.  On the final run we just tried to just stay ahead.  Unfortunately, the wind didn't cooperate and brought some of the boats behind us right up to us and one boat was able to squeak ahead of us at the line.
In the end a 1-1-2 was enough to win the day and pull ourselves up into 1st overall for the frostbite series.  In the last 43 years the winter series has only been won by 3 different guys.  Congratulations to Mike Waters on becoming the 4th person to win the series.  I was glad I could be along for a ride, I enjoyed getting to try some Soling sailing and I can't wait to do it again.