FBYC concluded the offshore spring series with gorgeous sailing conditions.  Sailing on J/70 No Quarter were Ray, Ron and John.  We had a good first race – picking the shifts well and going fast on the course set just east of Stove Point.  The wind started around 10-12 and died out to about 5 by the end of the race.  We finished 1st in the 5-boat J/70 fleet and even picked off some of the PHRF-A boats who started 5 minutes ahead of us.
By the time the second race rolled around the wind had piped up to 12-15.  We had a good start and worked on going fast and getting out ahead of the fleet.  At the top mark we were leading the fleet and we made the turn to go downwind.  When the crew exclaimed 'mark!' I though we had bumped it and started contemplating how to do a quick turn before we put the chute up.  When they said 'MARK!' again – I realized it must have still be close and sure enough it was hung on the keel and coming right along with us.
We stopped the boat and walked it around the bow as our competition took wide swings around us, likely thankful we just made the lay line a lot more reachable for them.  On my way back to the helm from the bow I missed my step around the companionway and fell all the way to the bottom of the cabin, hitting my right shin on the companionway edge as I fell.  No blood, but it was a pretty good hole and I could see to the bone.
Our day was over so we radioed in and quickly got back and put the boat up so that I could head back to Richmond to spend 2 hours in an ER getting xrays and 6 stitches.  Coincidentally, I sprained my ankle pretty badly this weekend last year.  I'm probably going to have to stay home next year.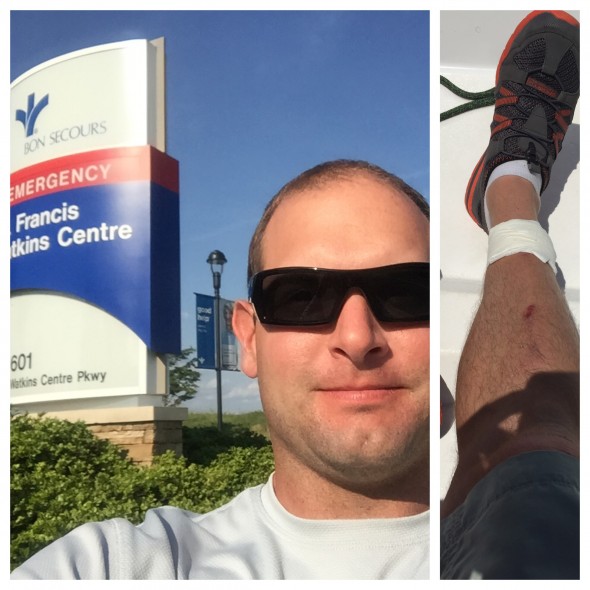 It had been a great day up until that point and we were learning a lot about making the boat go in the better breeze.  Thanks Ray for coming down for the day and showing us some of the tricks.