Quick video of our trip to the beach for New Years Eve 2011 in Wilmington, NC.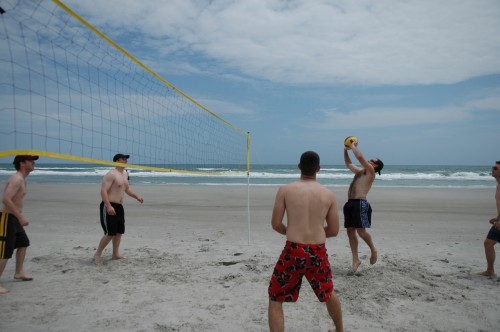 This past weekend was a ton of fun and I'm still in denial that it's over. I spent almost 5 days living out of my car traveling all over eastern VA and eastern NC. I took off Friday and headed down to Figure 8 Island near Wrightsville Beach to spend time at a beach house with Dan, Lauren, Patrick and a few other Richmond friends. With a full house I ended up spending two nights by the beach in a tent. It was beautiful weather for sleeping outside and I preferred it over the house. Sunday I got to see a beach sunrise which I'm rarely ever up for when I'm at the beach.
Sunday I drove back to Deltaville for two days of practice with the FBYC Campaign for the NYYC Invitational Cup Team. I sailed on the Sonar Sunday afternoon. We had a good wind, but a storm loomed on the horizon and we had to head in early. The storm never came and it was a beautiful afternoon so I got in a little Laser sailing.
Our practice on Monday didn't start until noon, so Maria, her friend and I took Lasers out in the morning and I sailed until I had to be back for practice. This time I was on one of the Colgate 26s. Despite being similar in size to the Sonar, there are quite a few differences in how the boat is handled. After practice I headed back to Richmond for a cookout before finally arriving home.
This has been one awesome weekend. I got to hang out with a lot of different people and had a blast with all of them. It's going to be tough to top that weekend this summer.
Side Note: At this point I've already put 10,000 miles on my car this year. Compared to this time last year I was closer to 6,000. With trips to Deltaville and beyond planned for almost every weekend through October, I'm going to be doing a lot of driving this year.