FBYC's Cut Channel race is unique in that the sailors get to decide which route to take around a pre-defined course choosing either ot go clockwise or counter-clockwise. The course goes out of the Piankatank across the bay to the cut channel, up or down it depending on the direction and then finishing back in the mouth of the Piankatank. With a southerly wind we though we could hold the spinnaker on two of the 3 main legs and that would make up for the time on the remaining short leg going upwind.
We had a good start just to leeward of Excitation, Afterthought and Corryvreckan. Excitation chose the same clockwise route that we did while Afterthought, Corryvreckan and Chilcoot took the counter clockwise route. Once clear of the line we all hoisted spinnakers. Unfortunate, we put 5′ tear in the foot of ours which would need to be repaired on a subsequent leg.
The trip across the bay was uneventful and we settled in under spinnaker. We saw winds into the upper teens at times and it came back to the mid-teens closer to the other side. As we approached the turning mark to go upwind we made sure to take the chute down on the opposite side so we could put it back up more easily on a later leg.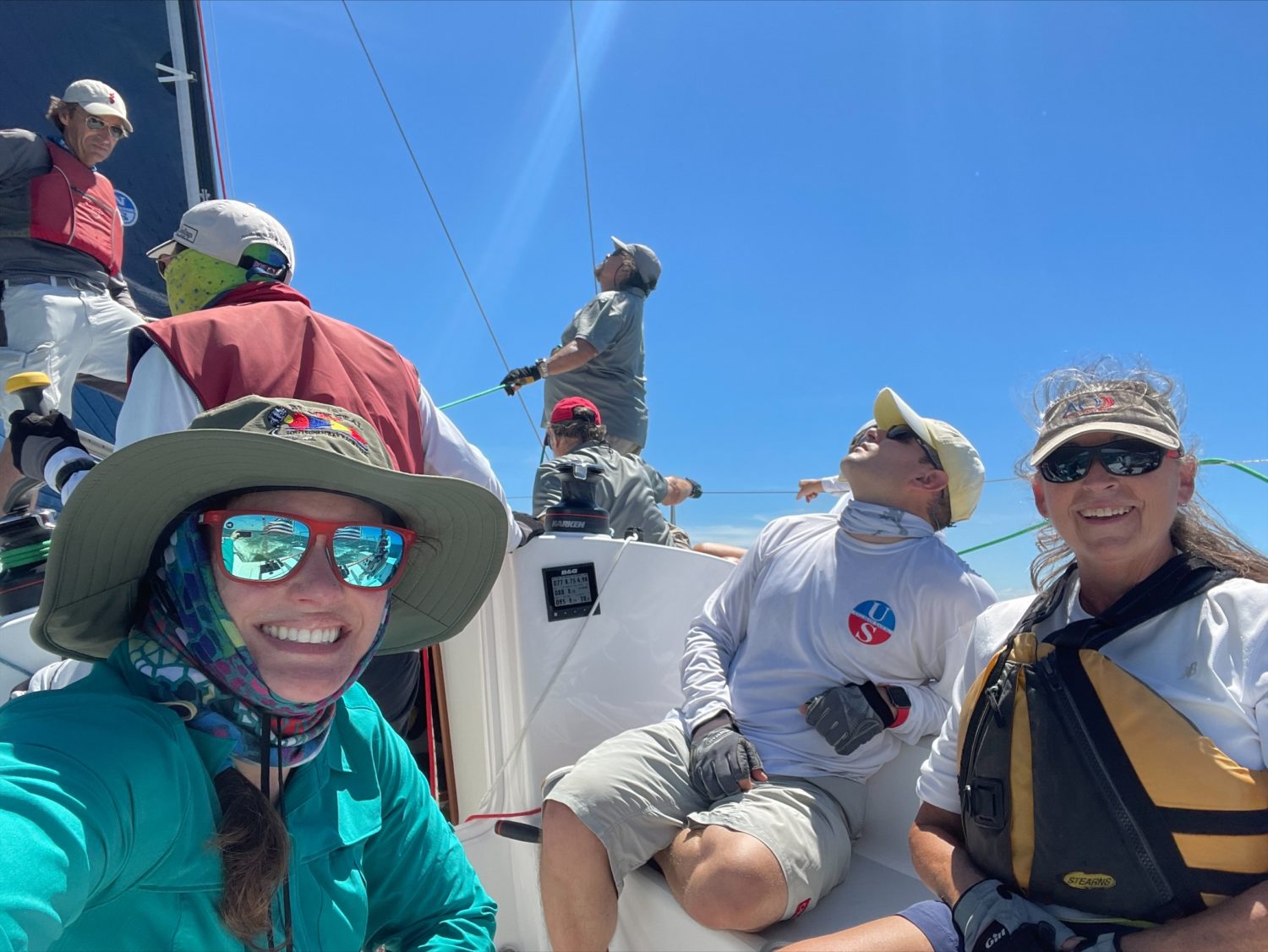 While on the upwind Todd and Barb worked down below on repairing the spinnaker while everyone else was on the rail going upwind. We started with a reef in and were making good speed upwind. The wind eased and we eventually shook the reef. I steered for the last 2/3 of the 6.8nm upwind leg. While we were also going upwind we passed the boats going downwind who were doing the counterclockwise course. It was pretty clear by then and started to sink in that there was no way we were going to make up the time on the remaining leg. Excitation was near us and wound up crossing tacks with them and they later rounded ahead of us.
After we rounded the southern mark we headed back to the mouth of the Piankatank under spinnaker. We were going good until we saw something suspicious with the main halyard and wanted to check on it so we proceeded to take the spinnaker and the main down to do so. We were able to re-hoist both and continued on finishing some 20 minutes after the leaders.
All in all was a fun day and learned some things about this course and the boat we'll bring back for next time.