2013 CRYC Spring Laser Regatta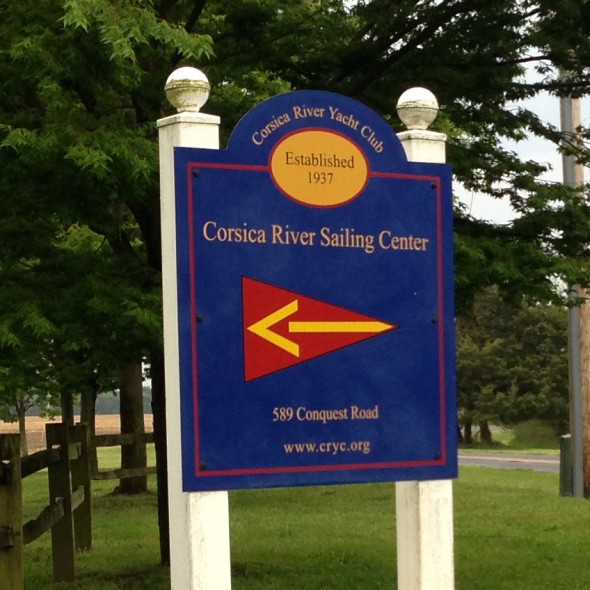 Couldn't have ask for much better weather for yesterday's Spring Laser Regatta at Corsica River Yacht Club.  The storms stayed away and we had a puffy 8-12 with temperatures in the 70's and partly sunny skies.  We sailed just off Ship Point a short sail from the club.
In the first race I had  a great start at the boat and from there I just picked a couple shifts and was leading at the first windward mark by a few lengths.  I extended just a bit around the next lap and a half and got the win.
In the second race I was lining up for the start and with 10 seconds left I pulled the tiller toward me to put the bow down and go for the start and my tiller/extension universal joint snapped.  For years I've sailed with a Forespar extension for the very reason that it uses a screw-in speed lock universal joint that can be replaced very easily.  I keep a spare and a pair of pliers in my life-jacket, so 90 second repair later I was off and sailing.  I was able to catch up to the middle of the fleet and finished 7th.
In the 3rd race I had a good start, but caught a bad shift on the first beat and was 4th or 5th at the first mark.  Carten Faubel and Nicholas Place just got out ahead of everyone and stayed there for the race.  I slowly pass a couple boats and got up to 3rd.
For the 4th race I had another great start and just worked the shifts rounding the mark in first.  I held off Carsten on the first downwind and subsequent upwind, but he had been so fast all day and he got just ahead of me on the 2nd downwind.  On the last tack of final short beat the finish we dragged race and he got me by about 2 feet.
We started a 5th race in 6-8 knots as the wind began easing off, but a storm passed a little too close for comfort and the race committee abandoned it on the 3rd leg and sent us in.
With 1-7-3-2 I ended up 2nd behind Carsten and just ahead of Nicholas Place.  CRYC did another great job and it's always a fun place to sail.  Thanks for putting on the regatta and having the Lasers!