Today was expected to be a light air day and that's what we were delivered. Racing was moved up an hour and after a couple false starts we got a race started in a 6-8 north east breeze.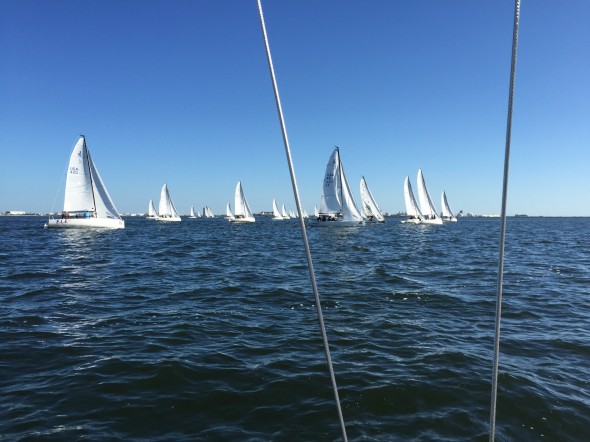 Our start on Spice wasn't too bad near the middle of the line and we picked our way up the first beat. Near the windward mark we were around 20 but called a thin Pauline and stalled near the make while 5-8 boats went right around us. That further reinforced something we had learned yesterday – when j70s are blanketed they have no power so when in a clump at the windward make it pays to over stand and come in on the outside.
Around the top mark we jibed early going out to the left and that became a kiss of death when a 40 degree shift came in. We limped around the rest of the course while the wind died with only a handful of boats behind us.
All in all it was great to get out of Richmond for a warm weekend of sailing. Thanks to Holly for having me and I enjoyed sailing with Brian and Lud. I also got a lot of homework done on the j70 and am looking forward to having a boat of my own this spring.
Results | Pictures | 2015 Quantum J/70 Winter Series 3 Website